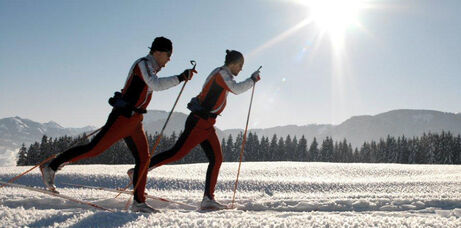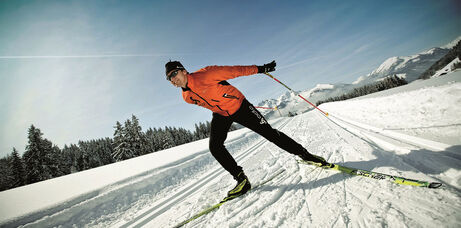 Winter Activities
Bringen Sie Ihren Kreislauf wieder einmal richtig in Schwung.
Get your blood pumping. Practice outdoor sports, take walks in the winter woods, or take advantage of the wide range of indoor activities offered near the Schlossblick Hotel, welcoming both those on holiday and seminar participants.
We are happy to offer some suggestions:
Cross-country skiing in the Kitzbühel Alps
The perfectly prepared cross-country ski runs, offering spectacular mountain views, are bound to dazzle you. For cross-country skiing enthusiasts there are several routes, with their different difficulty levels clearly marked, so that you can have fun practicing this sport. And all this, well into the spring!
Our cross-country ski rentals offer professional-quality Rossignol equipment.
Downhill skiing
A free shuttle service takes skiers to Hopfgarten every day, home to one of the Tyrol's largest ski areas: Skiwelt Wilder Kaiser. You can spend the night in the quiet setting of our hotel, away from the Aprés Ski (after-skiing social events) and the crowds.
A Place to Meditate and Reflect
Visit the Baroque Mariastein Church, a site for pilgrims hiking the historic Way of St. James and an ideal sanctuary for reflection and meditation. www.mariastein.com.
Information and References
Here you will find more information about the tourism and leisure opportunities in Angerberg and its surrounding areas: www.angerberg.at/aktivitaeten.php / www.hohe-salve.com